The 4seasons4u Pergola' Gazebo's are very popular. They bring a special sphere in your garden and can used for many different reasons.
Pergolas are frames for vines and climbers that surround the occupants with foliage, flowerss and aromas, offer a measure of protection and afford some privacy in urban areas.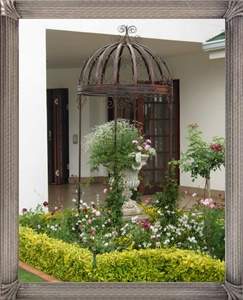 Cover them with roses or any other creeper for a tea house. Use them as a extra focus for your waterfeature or pots.
We have many different shapes and sizes, if your idea is not appearing below. please contact us to assist you.
Size we do make standard:
3500mm
3000mm
2500mm
1800mm
1500mm
1100mm
800mm
600mm
A Pergola is traditionally made from wood but with no solid roof and a Gazebo is a wooden stand-alone garden structure, with sides and a solid roof, situated to maximise views of the garden or the landscape. often hexangonal or octagonal in design with built in seating, gining them a strudy feeling.